AWT2 Watermark Listener - AWT2 mobile app for Android
AWT2 Watermark Listener is a supplementary application accompanying Audio Watermarking Tools 2 (AWT2). This application lets you use your portable Android device (phone, tablet) to detect inaudible digital codes (digital watermarks) in the audio content processed with patented* AWT2 watermarking technology.
AWT2 Watermark Listener is provided as part of AWT2 evaluation package. For AWT2 buyers, AWT2 Watermark Listener is compiled upon reques, er customer (each customer receives unique AWT2 package**) and is available upon request for no additional cost to commercial AWT2 users.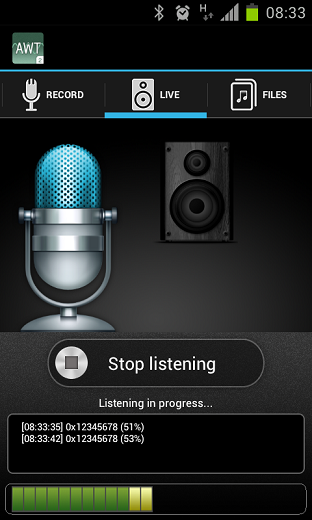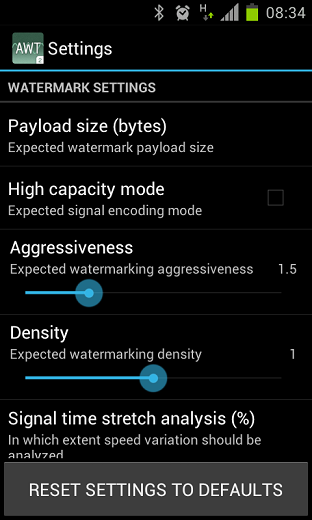 Installation of the app is easy.
You can seach for "AWT2 Watermark Listener" app in the Google Play (here).



Secondly, you can open this link on your Android device to install the application.
Alternatively, you can download this APK file to your desktop PC and copy the file into your Android device manually, and then install it on the device by executing the APK file using any available file manager.
Launch the application, switch to "Live" mode and push "Start listening" button. The application will start continuously analyzing the sound around you using the device built-in microphone. Now you can start playing watermarked audio via multimedia speakers of your PC, TV set, etc. To allow good recognition of watermarks in the played audio, you need to place the device very close to the sound source (speakers, TV) and hold the device steady for 15-20 seconds. Once a watermark is found, it is immediately shown on the device screen. It is HIGHLY recommended to place the device' microphone as close as possible to the sound source, just near the loudspeakers (i.e. literally stick the phone to one of the speakers) since room reverberations may spoil the detection on largers distances.
Make sure that watermark decoding parameters (such as expected watermark payload size, aggressiveness, density and watermarking mode) are properly defined in the application Settings.
Important notice: over-the-air recognition of AWT2 watermarks cannot be taken for granted and was not the main purpose of AWT2 technology development. AWT2 Watermark Listener is only a supplementary application representing a free bonus for AWT2 technology buyers. It may be able detecting watermarks over-the-air in a particular environment, but may not in others. If you require reliable over-the-air detection of watermarks, please request information on AWT3 technology from the developer.
The list below contains several audio files watermarked with different watermark payloads (specified in the file names). If you read this page using your desktop PC, you can experiment with AWT2 Listener by playing any of these files directly from this page using embedded Flash audio player via your PC multimedia speakers and checking watermark detection results on your Android device. Please note that 100% detection of watermarks with your particular setup cannot be guaranteed due to many different external factors (such as pecularities of different Android devices and their built-in microphone and audio systems, and so on). For your convenience, in addition to the live signal analysis in the "Live" mode of the app, you can also make recordings on the "Record" screen of the app and then perform manual analysis of the recorded audio files either using the "Analyze" button in the "Files" screen of the app, or using AWT2 file decoder on your PC.
You need to use Audio Watermarking Tools 2 (AWT2) Encoder to embed your own digital watermarks into your audio content.
More information about AWT2 technology can be found at this page.



---
(*) U.S. Patent No. 8,116,514
(**) Each particular copy of AWT2 binaries with particular Serial Number (SN) contains a unique numeric identifier that is used during encoding to scramble watermark payload. This security feature prevents one AWT2 user (with one SN) from extracting watermarks from watermarked files created by another AWT2 user (with another SN number).